Blog Overview
Inovica Builds A System for Rating Medical Courses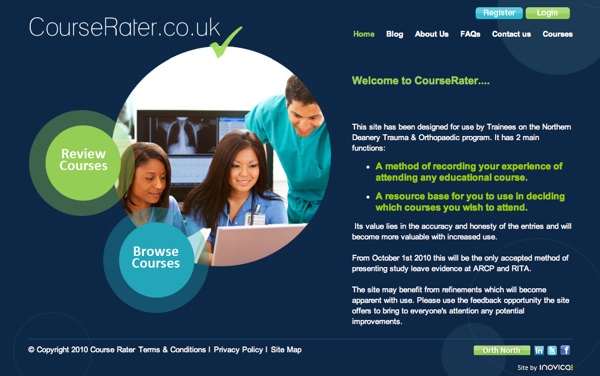 Inovica have recently created a course rating portal for use by medical trainees on the Northern Deanery Trauma and Orthopaedic training program. We were approached by leaders of the Northern Deanery to create this portal, which was to hold a number of functions for the trainees. It was to allow them to record their experience of the medical courses that they attended, while also helping to build a resource for future trainees that would in turn have to make decisions about the courses that they would like to take.
The portal, simply entitled
CourseRater
, has now launched and is being used by the trainees to give feedback on things like the quality of the teaching on a course, the relevance of the material and how well presented it was. Inovica tried to make the portal as functional and graphically tactile as possible, introducing things like star ratings to give viewers a quick overview of the ratings being given to courses on the
CourseRater website
.
The portal itself is secured and can only be used or accessed by medical professionals and trainees with a GMC number. Accounts are granted on this basis, and trainees are required to produce their feedback as part of their overall studies; a practice which will undoubtedly help to improve the courses for future trainees.
Inovica are pleased to have had the opportunity to work with members of the Northern Deanery in building this great tool. There are great hopes for the effectiveness of CourseRater and views to rolling the platform out on a national level in the future.
Please take a look at the
CourseRater website
to find out more about what they do, and if you are a Northern Deanery and Orthopaedic trainee, make sure you sign up and have your say.
Posted by Emma, Sunday 10th February 2019
Join Our Newsletter
Thank you!
Your details have been added to our list.